The Ravenscraig housing development in Greenock has won two major awards and the project's partner named Housing Association of the Year in the Scottish Home Awards for 2023.
McTaggart Construction's project with the Link Group was announced Housing Regeneration Project of the Year and Large Affordable Housing Development of the Year. The Link Group also secured the prestigious title of best Housing Association.
Scotland's largest independent awards recognises excellence in the new build housing sector and raises awareness of high-quality standards in construction and customer care.
McTaggart Construction MD Janice Russell said: "We are absolutely delighted to have won these awards for the Ravenscraig development. Building better quality affordable homes can positively change lives and together with the Link Group we set out to achieve housing the community could be proud of.
"These awards are testament to our commitment, passion and partnership approach with clients and communities. Working together and listening to those communities helped us make a positive difference by creating small linked neighbourhoods in a fabulous setting."
Link Chief Executive Jon Turner said: "I am absolutely delighted Link won three awards at the prestigious Homes for Scotland Awards. This success is a recognition of the hard work, and innovation Link has carried out over the last 12 months.
"Whilst it is satisfying to be acknowledged by the industry as one of the leading housing associations in Scotland, we will not be complacent in our aim of creating sustainable communities and building contemporary housing which offers everyone a fantastic place to live."
Link Group Commercial Director Colin Culross said: "I'm delighted Bunston Grove has been recognised nationally through winning Housing Regeneration Project of the Year and Large Affordable Housing Development of the Year. As well as offering modern design and an emphasis on place-making, the development also provides much-needed affordable housing for people in Greenock and the surrounding area, transforming lives and enhancing a sense of community in the process.
"We are grateful for the support shown by our partners and all those connected to this very special project. The fact that Bunston Grove has been recognised nationally is a testament to all those who have worked so hard in making it a success."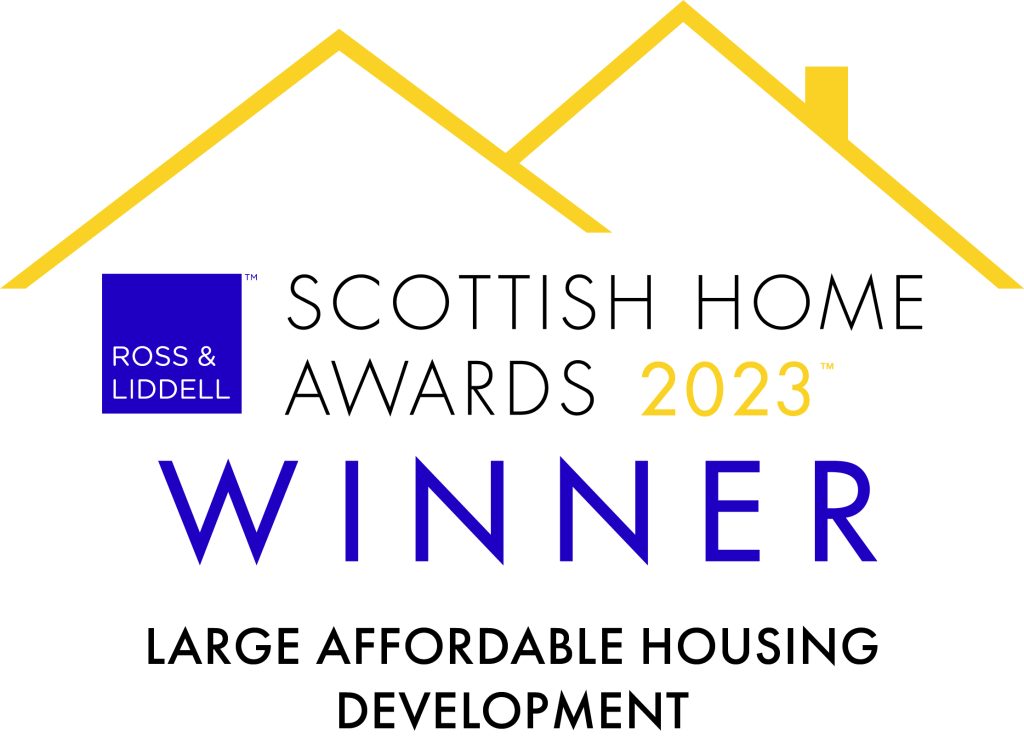 The Ravenscraig project was a joint partnership with McTaggart Construction and the Link Group. It caters for a range of age groups and community housing needs. The 198 homes are a mixture of two and three storey terraced houses, cottage flats and bungalows, designed to HfVN standards, including 20 wheelchair accessible homes.
The project provides starter and family homes through to units which can support older residents and those with additional needs. Each has a private garden area. Existing landscape was used to create a network of neighbourhoods, each around 20-30 homes linked by two main roads.
Key routes were retained as pedestrian and cycle trails, and provide a direct connection with the Greenock Cut, a popular walkway and part of the Clyde Muirsheil National Park. The area at the Pennyfern entrance to the site which suffered from localised flooding and marshland has been transformed into open space with viewpoints and disabled access.
Mrs Russell said: "It was important to not only improve connectivity but also to take advantage of the site's unique park setting and deliver a development that is embedded in its fantastic environment."
In addition, the site supported more than 120 hours of training and development of skills for school and college students and achieved £3.6 Million in social value.
McTaggart Construction are a Dalry based family-owned business and were recently crowned Large Apprenticeship Employer of the Year in the Skills Development Scotland awards.